News
DE VOLTA PARA O FUTURO
Depois de 17 anos o JEB's é realização da Secretaria Especial de Esporte Lazer e Juventude!
A Associação Miratus que atende no contra turno, alunos das escolas públicas do RJ, resolveu visitar a direção de cada unidade escolar para garantir que eles pudessem ter a chance de lutarem por suas vagas nos Jogos Escolares Brasileiros (JEB).
LANÇAMENTO ! Hoje nossos amigos Kirk e Jon, estão lançando um livro muito interessante sobre a filantropia mostrando a importância de apoiar ações locais ! Segue um pedacinho do texto nas fotos a seguir. E o mais legal é que eles usaram a Associaçao Miratus como case no livro.
Excelentes resultados da Associação Miratus neste Brazil Intl que marca o recomeço das competições internacionais para os brasileiros !
Na Simples Masculina 
Jonathan Matias, 
Donnians Oliveira, 
Artur Pomoceno, 
Deivid Silva ou seja pódio 100% Miratus !
E na Dupla Masculina 
Artur/Isak, 
Jonathan/Donnians.
SPECTACULAR ! Thanks to the super partnership of Rise Up & Care that supports the project and secured the boys ' trip to Fortaleza, the kids of Miratus Association once again did very well this weekend at the Brazilian championship, last year's national tournament. Of the 120 medals distributed (Sub Adult category 11), Miratus won 24.5 and this with 19 athletes only (of 261 participants)! Biggest medalist of the tournament and especially 12 of 25 titles (the second Team having only 4.5)!! Really good, these kids!! Thanks Kirk, Jon and Rise Up. You once again made the difference! And thank you Artengo for the support on the equipment. Congratulations to you, kids! The complete Miratus results GOLD (12) Leticia (SF Sub 11) Jonathan/Leticia (DX Sub 11) Jonathan/Kauã (DM Sub11) Vitoria (SF Sub 13) Pedro Vinicius/Renan (DM Sub13) Deivid (SM Sub15) Davi/Deivid (DM Sub15) Camille/Karen (DF Sub15) Deivid/Karen (DX Sub15) Jonathan (SM Sub19) Jonathan/Donnians (DM Sub19) Cleyson/Isak (DM) SILVER (6) Jonathan (SM Sub 11) Renan (SM Sub13) Renan/Maria Eduarda (DX Sub13) Davi (SM Sub15) Donnians (SM Sub19) Claudia/Jonathan (DX Sub19) BRONZE (7) Cleyson (DM) Pedro Vinicius (SM Sub13) Maria Eduarda (SF Sub13) Pedro Vinicius/Vitoria (DX Sub13) Maria Eduarda/Maria Fernanda (DF Sub 13) Karen (SF Sub15) Claudia/Manoela (DF Sub19)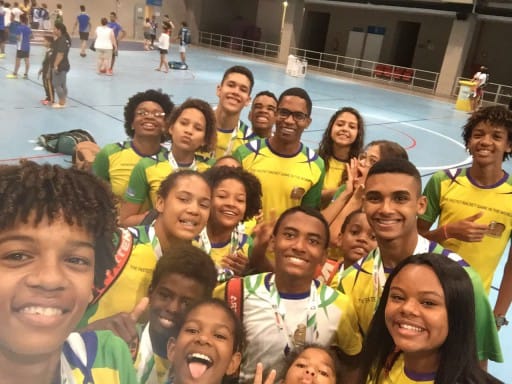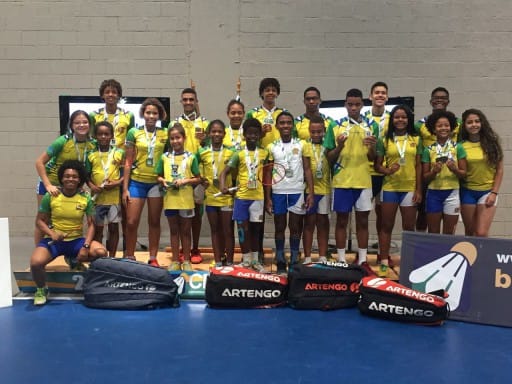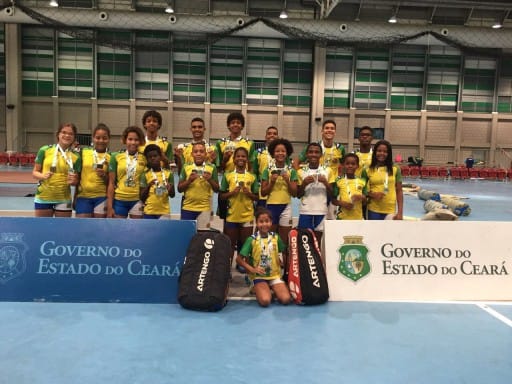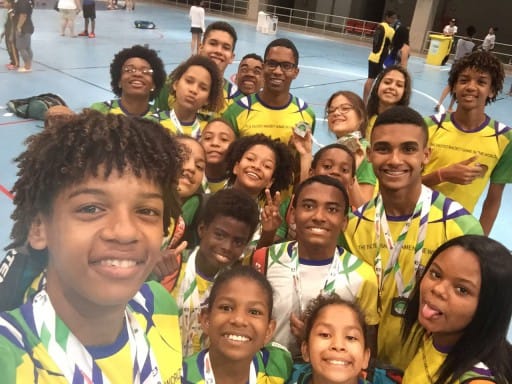 On November 02, 2017, Sebastião, Miratus Association's founder, went to Washington to participate to the meeting "Construccion de Capital Cívico – Experiências en America Latina", meeting organized by the Inter-American Development Bank (IDB). The Bank took the initiative of bringing together in its headquarters, several important agents, scholars, great researchers to discuss the evolution of civil society and invited Sebastião to participate in order to present a concrete example of transforming community throughout sport.
O ano 2017 mal começou mas na Associação Miratus, o ritmo ja esta intenso ! Os educadores do projeto educativo da ONG, projeto patrocinado pelo Instituto Nissan resolveram aproveitar este inicio de ano para conhecer melhor a comunidade e suas demandas pedagogicas e esportivas no ambito de estruturar melhor as ações desenvolvidas.
30 kids from Miratus travelled on Tuesday to Novo Hamburgo in the southern part of Brazil to participate to the 2° badminton brazilian championship. After a long bus trip they started their competition on Tuesday and ended it on this sunday afternoon. Have a look at these incredible results they reached
27 athletes, 28 medals !! Once again the kids from Miratus excelled in the III National of the year in Recife. 27 athletes traveled on the past September 13th thanks to the support of two major partners of the project, the NGO Rise Up (USA) and  the Institute Invepar / Lamsa (Brazil) that covered all the expenses for the kids to enable them to go to the tournament. Results:
A ONG Sikana lançou os videos gravados em Junho na Miratus !! O objetivo destes videos é de dar conselhos aos jogadores iniciando ou se desenvolvendo no Badminton. Para realiza-los a Sikana, seguindo os conselhos da Artengo, veio especialmente ao Brasil para gravar com a Miratus.
Kátia Lund, codiretora do elogiado Cidade de Deus, conta a trajetória do carioca Ygor Coelho em "Não deixe a peteca cair", que será exibido de 11 a 17 de agosto no Rio ! A história de superação e vitórias do  Ygor Coelho vai ganhar as telonas. Primeiro brasileiro a se classificar para 
Nesta terça feira 21 de junho, recebemos, aqui na Miratus, a visita do nosso grande parceiro François Dossa – Presidente da Nissan do Brasil, acompanhado de Marcia Ribeiro, uma das Diretoras da empresa, que gerencia o Instituto Nissan.
A visita teve o objetivo deles conhecerem melhor as atividades pedagógicas que vem sendo desenvolvidas hà mais de 2 anos graças ao apoio do Instituto.
O Ygor foi neste domingo uma das estrelas do Fantastico ! O programa inaugurou um novo quadro "Geração 16" onde ira falar de 8 promessas do esporte brasileiro para os Jogos Olimpicos 2016, meninos e meninas que tiveram o sonho nestes ultimos anos de alcançarem a sua primeira Olimpiada.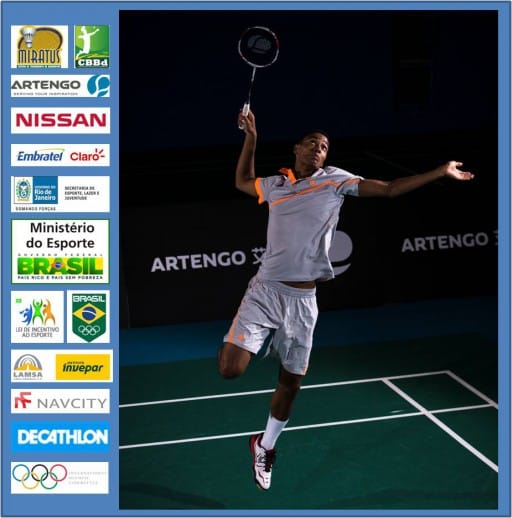 Last week, Ygor had already won his place for the Rio 2016 Olympic Games as he was the best Brazilian in the badminton world classification. Since Brazil is the organising country this year, the International Olympic Committee offered him a place for this achievement. However, last Thursday, Ygor achieved a lot more! We are very proud of him!
This last tuesday of Carnival, Miratus helped BWF to vehicle  Badminton in Brasil, going to a "Bloco" (which means group) "Vagalume o Verde" which took off from the Botanic Garden in Rio de Janeiro! Heat, leasure and joy for the 20 youths from Miratus who participated in this event. Look at the images and youtube movie below.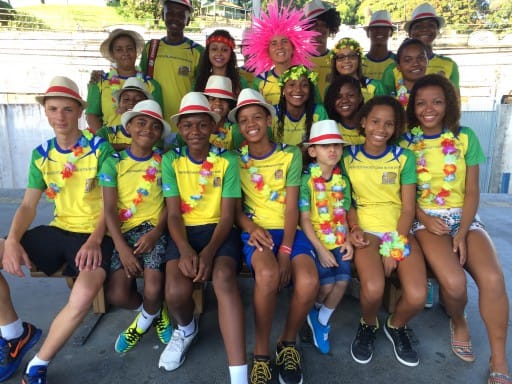 Last weekend (6 and 7th of november) was held a big party at Miratus! Organized from A to Z by the children of the association: from the preparation of the food to the presentation of the meals and decoration of the place! The organization began on Friday with a Gastronomy lesson where the children could prepare a part of the meal.